Hello Mythsters! And welcome to another pop culture exploration of dragons infiltrating modern society. This week we are going to take a left turn into dragon-inspired architecture of Southeast Asia. (And because I can't help myself, other buildings may pop up).
Waitaminute, Koji! Are you sure this is a pop culture post? Aren't we getting into religion and mythology?
Hush, you. I know what I'm doing. I don't mean temples. I mean weird buildings with dragons wrapped around them. I mean abandoned theme parks. I mean active theme parks. I mean pop architecture.
Ready? Then let's get started.
Ho Thuy Tien – Abandoned Water Park
We're kicking things off with Ho Thuy Tien, an abandoned water park close to Hue city in Central Vietnam. This was built in the early 2000s, and cost around three million USD. It opened in 2004 and closed soon after.
The entire park has an eerie feel of fast abandonment, and until recently, was home to three crocodiles as well as buildings, rides, and slides. It is now a favorite place for backpackers wanting to get away from traditional tourist spots.
The most interesting part of the park is a three-story dragon in the middle of a pond. You can enter the dragon and ascend to its open mouth, where you can see the park being overtaken by the jungle.
This video has some excellent drone footage of the dragon:
Wat Samphran – Temple
I know, I promised no temples, but this one is irresistible, so it had to go on the list. Wat Samphran was registered as a temple in 1985, after around five years of construction. Supposedly, the idea for the temple came to a monk during a seven day meditation.
It involves an 80-meter-tall building (the age of Buddha at his death) surrounded by a green dragon, and it is gorgeous. However, it was never fully finished.
In the early 2000s, the temple was involved in a tragic sex scandal and shut down. However, it is now open to the public, although not all places are accessible at all times.
Sity – Concept Park
Unfortunately, we cannot go to Sity. Yet. Sity was a conceptual design entered into the Re-Thinking Shanghai competition in 2012. The design meant to pull together traditional and modern by creating a giant metal dragon that looped through the neighborhood, wrapping itself around a man-made canal.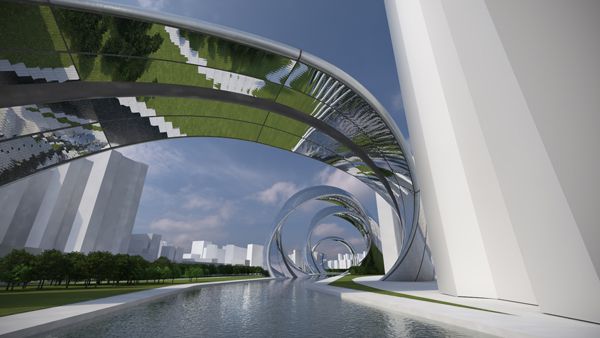 Bengbu Olympic Center
This sports complex in Bengbu, China is based on the movement of a dragon. The walls of the complex are built and lighted to look like scales, and the tower in the middle of the complex looks like a ball the dragon is chasing, which we'll get into when we cover Chinese mythology.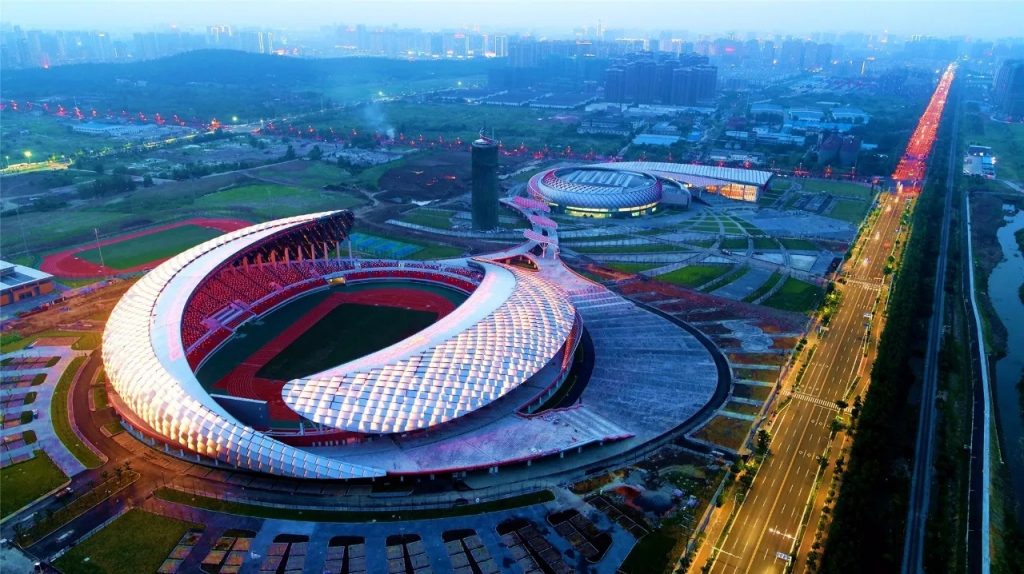 Vanke Pavilion – Milan
Developed for the 2015 expo in Milan, the Vanke Pavilion takes inspiration from Chinese dragons and the Chinese mountainside. Like the above example, the main features involve a sense of serpentine movement and scales that seem to change color.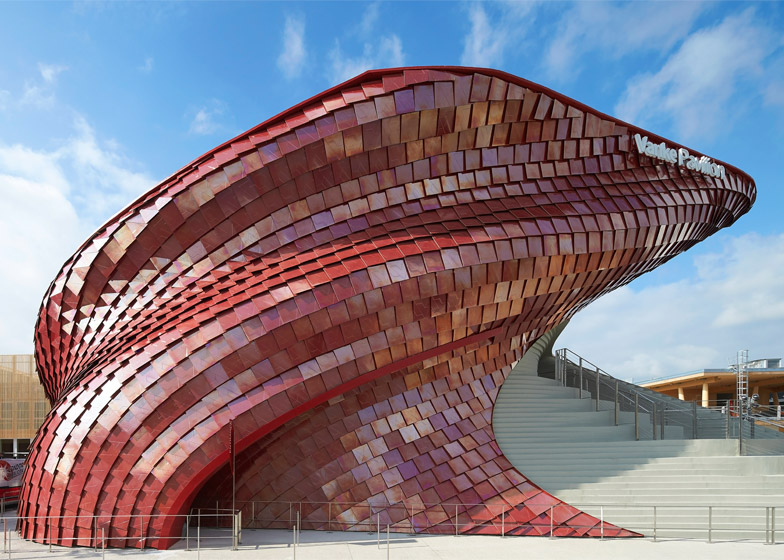 Kaohsiung Stadium – Taiwan
This is another sports stadium, with a capacity for 55,000 people. It was inspired by a dragon's tail, and the coolest part of it is that the scales along the top is made of almost 9,000 solar panels, supposedly kickstarting Kaohsiung into a solar city.
Dragon Bridge – Vietnam
The Dragon Bridge in Da Nang, Vietnam opened in 2013. It changes color using projected lights and every Saturday and Sunday it breathes fire at 9pm.
And here, with the fire-breathing dragon, is where I will leave you, my dear Mythsters. Although, I have stumbled across many dragon-inspired roller coasters, which might have to become their own post on another day.
Sources