Hello, Mythsters!
And what a fine day to greet clouds, is it not? Well, allow me to make it more interesting. A few months ago, the hydra decided on a dragon poster to celebrate the end of our first season of The Mythsterhood of Travelling Tales podcast. We're not yet there, but that's not going to stop us from making it a month-or-so celebration. The poster was recently completed and I, for one, cannot wait to share it with all our Mythsters!
The eye-candy isn't empty, though. We've decided to make a little contest where one lucky Mythster will win a printed poster of this beauty at the end of the season, being the first in the world to get their hands on it. More on that a bit later down in this post.
Behold! Here be a dragon!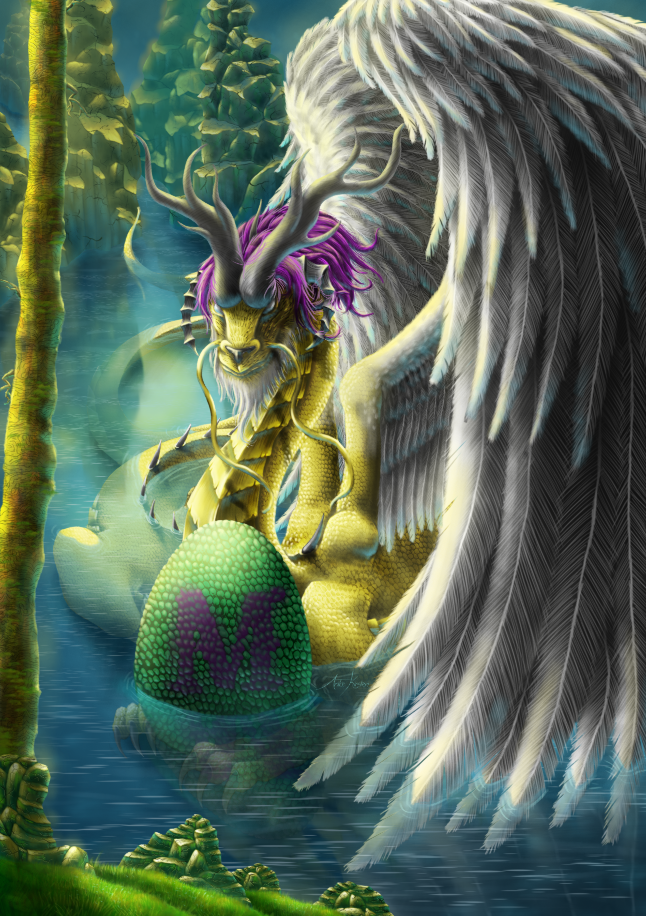 Funny thing, about the poster. I didn't originally intend to make this version. The design was going to feature each dragon me, Jaz, and Koji like best in one scene. I got stuck somewhere in the painting of that version and so I did what I usually do with art block: I sketch something new. The new dragon was a quick sketch and wasn't really going to turn into anything, just stay one of the numerous hidden sketches I keep flying around in the house.
You know what they say about the best laid plans, right? Yeah, that happened. It happened so hard. The throw-away sketch ended up resonating so much with me, holding massive potential, that I ended up not having a choice but to change my mind. Then the possibilities of the final painting started to roll and I just had to plot them out. I figured "why not combine the common traits we've encountered in dragons so far"?
The long serpentine body, scales, horns, and the combination of various animals being the characteristics seen in so many dragons across almost every culture. Along with those, most of the dragons we've discovered were associated with or lived in a body of water.
And to create the story, I added the egg. The Mythster egg that holds the promise of a long life, being that we're soon about to celebrate our first birthday. And the perspective? That's from our Mythsters' view, coming across the great dragon with her egg in this magical lagoon and staying to witness the moment the hatchling emerges and watching it grow. We really hope you find our little lagoon a place to call home. And we are so grateful you've found us, helped us to incubate our egg, and raise our podcast each fortnight.

But let's discuss that contest.
We'll be giving away one poster print of Anike's amazing piece to a lucky winner. To enter the lottery, you have three possibilities:
1. Support us on Patreon. Every patron will have two tickets entered into the pool automatically. However, times are tough for a lot of people, and we totally understand not being able to join our Patreon, or choosing to give what you can miss to charity. That's why we've got other ways for you to enter the contest.
2. Join us on Discord and join in on the collaborative final episode poem. Every time you enter a stanza during the writing cycle, you'll get another ticket, and another chance to win!
3. Spread the word. For every dragon lover you manage to lure into our Discord community, you'll get another chance to win.
Again, it has been such a pleasure so far, to explore all these dragons from across the world with all of you, and we can't wait to see what other adventures the future brings for the Mythsterhood.
Thank you all so much for sticking with us. We are immensely grateful for the support of our listeners, our faithful Patrons, Andrew and Lizzie, and the members of our budding little community on Discord.
Let the games begin!
Later Mythsters!